Lijia Zhang has a new book out called "Lotus", inspired by the secret life of the her grandmother. Lotus follows a young woman torn between past traditions and modern desires―as she carves out a life for herself in China's "City of Sins".
"Standing outside the Moonflower Massage Parlor with three other girls, Lotus flashed her red smile at every passing man. She leaned against the glass front of the parlor, one leg bent like a crane's. Luring in the clients with sweet and oily words consumed a surprising amount of energy"
Reserved, at times defiant, Lotus is different from the other streetwalkers. Her striking eyes glow under Shenzhen's neon lights, capturing the attention of Funny Eye, Family Treasure, and a slew of other demanding clients determined to make Lotus their property. Choosing between wealthy, powerful, and dangerous men is no easy feat, but it is a surprising offer from Binbing, a soft-spoken and humble photojournalist, that presents the biggest challenge. Is Lotus willing to fall in love? Is she capable of it?
Lijia's  latest  Inspired by the deathbed revelation that the author's grandmother had been sold to a brothel in her youth,Lotus offers compelling insight into China's bustling underground world and reveals the surprising strength found in those confronted with impossible choices. Written with compassion and vivid prose, and packed with characters you won't soon forget, Lijia Zhang's Lotus examines what it means to be an individual in a society that praises restraint in and obedience from its women.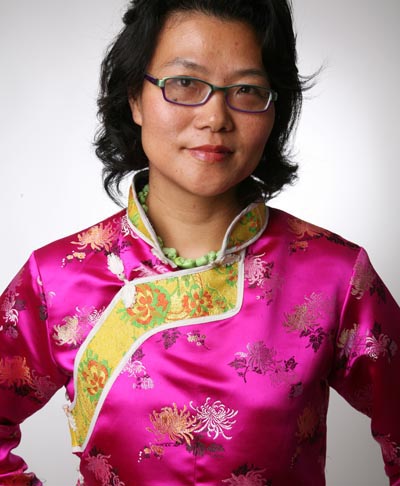 Lijia Zhang, skilled journalist, author, social commentator and speaker comes from humble beginnings. Born and raised on the banks of the Yangtze River, Lijia Zhang was pulled out of school  at the age of 16 to work at a factory that produced inter-continental missiles.  As an escape route, she taught herself English and dared to pursue her childhood dream of studying journalism.
In her long career as a journalists, Lijia Zhang's features, features, often very human stories about the plight of China's "little people", have been published in South China Morning Post, Far Eastern Economic Review, Japan Times, The Independent, The Observer, Newsweek and The New York Times. Her widely acclaimed English-language memoir, "Socialism is Great!" detailed her journey from being a rocket factory girl to a prominent social commentator. Her inspiring tale of great transformation and views on China through the years have been featured on the BBC, Channel 4, ABC (Australian) CNN, CBS and National Public Radio, among others.
Lijia Zhang has been described by Tony Blair as "an inspiring example of promoting the understanding between China and Britain" in his keynote speech during his state visit to China (1998), has been voted one of the "40 Beijing heroes" by TimeOut Beijing (October, 2008), a subject of a BBC documentary Peschardts People (May 2009) and the recipient of the prestigious International Writer's Program, University of Iowa, sponsored by the US State Department (2009).
Lijia Zhang's speaking  topics include:
"Socialism is Great!"
Understanding Business Culture
Developing a Better Understanding of China's Past to Better Comprehend Present Day Reforms
The Changing Role of Women in China
Frog in a Well 
Contact us if you would like Lijia Zhang to speak at your next event.